Dallas Symphony Chorus'
40th Anniversary Season
The Symphony Chorus' 40th Anniversary Season, "A Celebration of Singing," will commemorate this achievement with musical offerings each month. In addition to its concerts with the Dallas Symphony Orchestra, the Chorus is offering a number of free special events to highlight its deep and lasting ties to the music community in the Metroplex. Throughout the season, the Chorus will continue its legacy by making music with singers of every age. Join us in this "Celebration of Singing" by attending our concerts and special events.

Dallas Symphony Chorus
FREE OPEN REHEARSAL
Monday, April 9, 2018
7:30 PM
Meyerson Symphony Center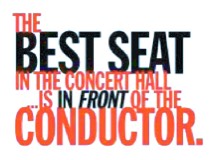 Get an insider's look as the Chorus prepares for performances of Maurice Duruflé's beautiful
Requiem
. Guests will have an opportunity to participate in the vocal warm-up, and will then be invited to enjoy a performer's view from the McDermott Concert Hall stage of the Meyerson while surrounded by the more than 200 voices of the Chorus during a full, working rehearsal.
Attendance is
FREE
. To reserve your seat on stage on Monday, April 9, 2018, click the button below and submit your RSVP today!
WELCOMEThe Dallas Symphony Chorus
was founded in 1977 - and we're currently entering our 40th Season! View the
2017-18 Schedule
or visit the
Concerts Archive
to see what we've performed over the years.
Would you like to sing with us? We invite you to enquire about
scheduling an audition
today!
2017-18 Season - A Celebration of Singing!
2017-2018 - 40th Anniversary Season
A CELEBRATION OF SINGING


The Dallas Symphony Chorus launched its 40th Anniversary Season in 2017-2018 with with the theme "A Celebration of Singing" and a special FREE concert at the Meyerson on Sunday, October 8, 2017 that featured the music of Bernstein (his Chichester Psalms) and a commissioned world premiere work by Jake Runestad. Our always popular and family friendly Christmas Celebration concerts are now underway, and run through Sunday, December 17, 2017. We hope you tuned in to WRR 101.1 FM on Monday, December 4 at Noon, or joined us the Moody Performance Hall downtown and enjoyed excerpts from our Christmas Celebration concerts during "Caroling in the Arts District 2017." We will move into 2018 with a performance of Mahler's Symphony No. 2 "Resurrection" in February and the Duruflé Requiem in April and will close out the season in May 2018 with the Beethoven Symphony No. 9, under the baton of Maestro Jaap van Zweden as part of the 4th Annual Soluna Festival, and a fitting farewell to the Maestro van Zweden as Music Director. The Chorus will then present a pre-Tour concert on June 3, 2018 in advance of its 10-day tour to Sweden, Estonia and Finland.

We hope you will join us at any or all of these concerts during our 40th season - view the 2017-18 Season Schedule Now!
This Page Was Last Updated: 2/3/18