We're celebrating 40 years - be a part of our future!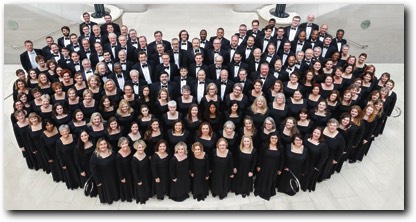 2017-18 Season Highlights include:

•
Bernstein
Chichester Psalms

•
Christmas Celebration Concerts
• Duruflé
Requiem

•
Mahler
Symphony No. 2 - Resurrection

•
Beethoven
Symphony No. 9
(Maestro van Sweden's
final conducting appearance as DSO Music Director)
AUDITION REQUIREMENTS
• One (1) prepared solo in any language - accompanist will be provided.
• Sight-reading.
• Vocalization and pattern retention.


GENERAL INFORMATION

• You must agree to participate in all concerts during the entire season.
• New members are not eligible for a Leave of Absence for the first 12 months.
• New members must purchase the required dress or tuxedo and accessories for all concerts.
• Rehearsals are generally every Monday evening and take place from 7:30 p.m. to 9:45 p.m. in the Choral Rehearsal Room in the Meyerson Symphony Center in downtown Dallas, unless announced otherwise by the Chorus Director.

TO MAKE YOUR AUDITION APPOINTMENT
• Click the sign-up button below. A new window will open to a Google form displaying the Chorus logo at the top of the page.


This Page Was Last Updated: 1/6/18